02.02.2019
QUARTERLY BUSINESS BREAKFAST / FEBRUARY 2019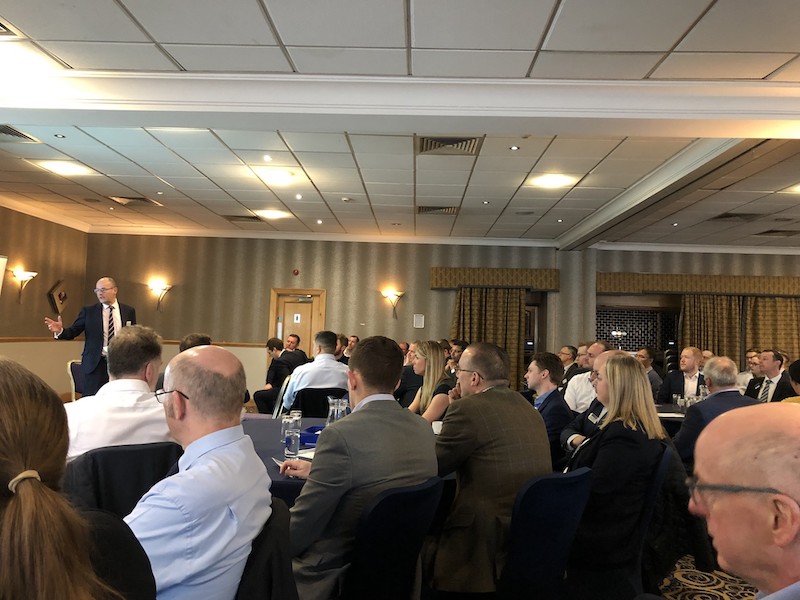 On Thursday morning, St. Valentine's Day, four professional services firms - Bermans LLP, DSG Chartered Accountants, Lloyds Business Banking and Resourcery Group - came together with over 80 valued clients to listen to a thoroughly inspiring and insightful series of presentations by Neil Inskip of the Business Growth Fund; the UK and Ireland's most active investor company in SMEs and Chris Meehan of Sentric Music Publishing; an award winning independent music publishing company who has benefited from BGF investment, on the mechanics and benefits of minority, long-term equity growth capital as a form of growth funding.
This was the third in a series of Quarterly Business Breakfast networking events being held throughout 2019 across the North West. The aim of which is to bring together the brightest entrepreneurs and finance leaders from high growth, owner-managed SMEs to share best practice and market knowledge for the mutual benefit of all.
Chris' story of the journey he has taken Sentric Music on over the last 10 years, and the views Neil was able to provide from an investor perspective were hugely insightful. The value both parties placed on the importance of a strong and trusting relationship between investor and investee lies at the heart of the success of both businesses.
What was particularly pleasing to see was just how many people wanted to speak with Neil and with Chris after the presentations and there was a real sense of attendees taking value from the event with many making new contacts and gaining fresh ideas and insight on the day.
Like all networking events, the old adage stands that "the more you put in, the more you get out". But whether you just sit and listen to interesting presentations and gain fresh perspective, or talk at length with those around you, there is value to be gained from taking time away from the office and speaking to other industry experts and your peers. In an ideal world, networking events such as the Quarterly Business Breakfast, allow you to refresh old relationships, build new ones and learn from industry experts creating value for all.
What was fantastic from a Resourcery Group perspective, was to be given the opportunity to introduce people in our extensive networks to those in Bermans, DSG and Lloyds so that they could engage directly about business affairs, not necessarily recruitment matters.
We can add value in many ways as a relationship-focused senior and executive recruitment specialist. We don't just recruit. We make connections. We form relationships that have spanned decades and create value outside the immediate sphere of recruitment. To be able to share these was very rewarding. What was also particularly pleasing to see was the value we place on relationships and trust in our business being echoed and underlined by both Chris and Neil in theirs.
As a recruiter, Resourcery Group offer traditional Contingency Recruitment services as well as Executive Search and Selection. But what you may not realise is we also provide organisational design support, retention and attrition advice, salary benchmarking, labour market insight, talent assessment, onboarding programme design, leadership coaching, market mapping and much more.
If you are interested in sharing in the region's leading thought-leadership and building a network of connections that can help accelerate your business's growth please get in touch and sign up for our next event.
You can contact us by visiting www.resourcerygroup.com or by calling 0151 345 9040.
Resourcery Group. Redefining Recruitment.