28.08.2019
POST-HOLIDAY BLUES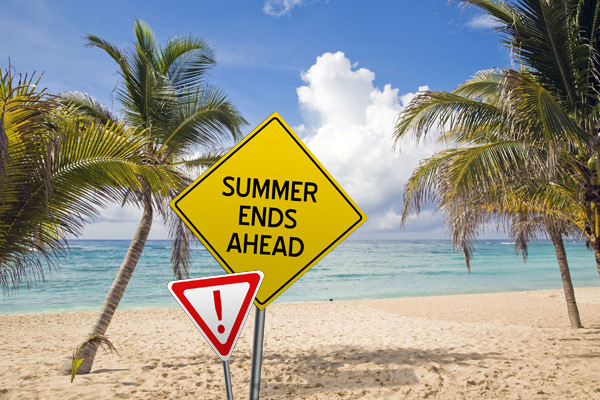 SO, THE SUMMER HOLIDAYS ARE ALMOST OVER NOW.
· The kids are heading back to school (a sigh of relief was that?!).
· You've got the last couple of days of zooming down the motorway to work to enjoy as there's limited commuter traffic on the roads.
· The conkers are almost ready to drop from the trees (I can't believe that I still get excited about this in my 40's).
WHAT HAVE WE GOT TO LOOK FORWARD TO NOW THEN?
· Soon to be driving to work in the dark in the morning and evenings.
· Another boring season of X Factor.
· Counting down to the next couple of Bank Holidays at Christmas.
WHAT OBJECTIVES DID YOU SET YOURSELF FOR THIS YEAR?
· Lose weight? Don't worry, you can still lose 2 stone by Christmas if you track at a 1.5lbs per week loss.
· Get promoted?
· Do more networking?
· Get your CPD in order?
More importantly, in 2017 did you as a company all sit down and decide on what your 2020 vision was going to be? What objectives did you set and are you on target to achieve them? Have you re-evaluated these goals recently?
Typical areas are likely to have been:
· Better internal controls
· Quicker and more insightful analytics in real time
· Technology and digital investments – upgrading systems and implementing new reporting tools
· Create cost efficiencies
· Implementing a new target operating model
· Better business partnering with the non-finance departments to help them navigate their business challenges
· Decrease month end reporting deadlines
If you are not on target for achieving your company 2020 vision now is the time to act. Resourcery Group are experts in Accounting & Finance recruitment. We understand business, the pressures that you are under to deliver, and we have the resources to help tick off these items from your list.
We have a bank of seasoned Interim and temporary contractors who are proven in delivering tangible achievements. Like most teams we speak to, they are slick and lean meaning that the value adding pieces quite often get pushed down in priority in order to deliver BAU objectives. Having additional dedicated people to release your staff to carry out the projects and bring in a business as usual interim to backfill or to hire an expert in their field we are here to help.
For more information please get in touch with Allison Hodgkinson at Resourcery Group on
Allison.Hodgkinson@ResourceryGroup.com
07505 769 508
#accountant #transformation #icaew #acca #cima #interim #contractor #flexiblesolution #Manchester #Liverpool #Lancashire #Cheshire #NorthWales #businessprocessimprovement #teamgoals #strategic #2020 #financedirector #financialcontroller #finance #financebusinesspartner #systems #change #redefiningrecruitment