01.05.2020
INTERVIEW HINTS & TIPS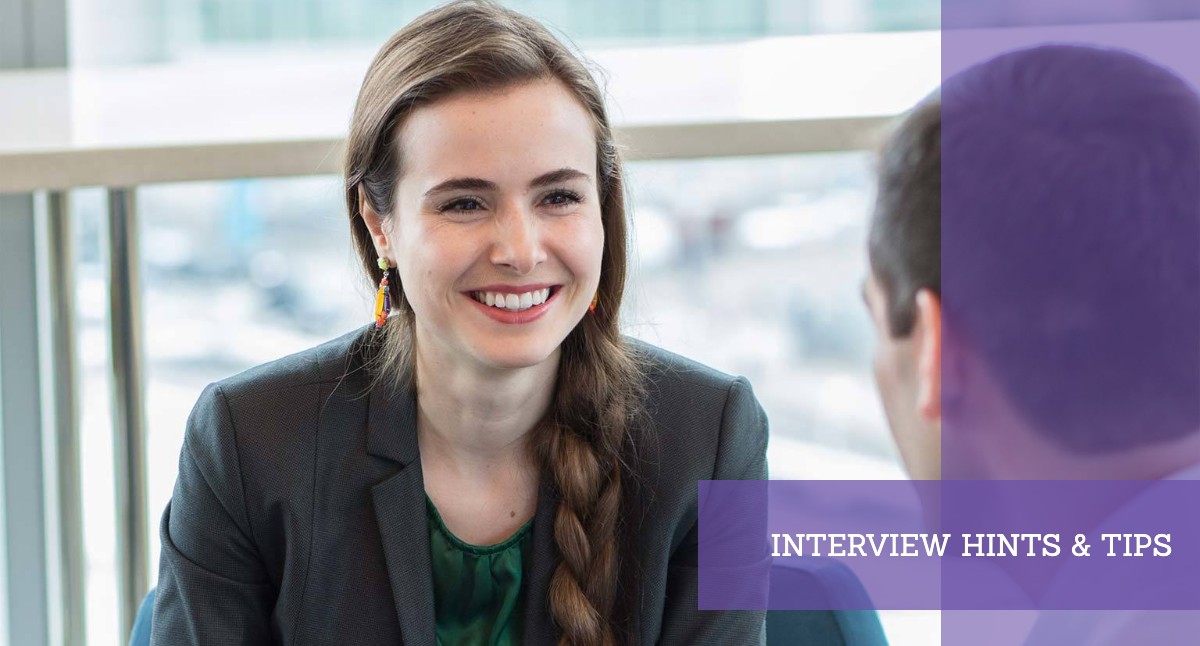 HOW TO ANSWER THE COMMON INTERVIEW QUESTIONS
HOW TO MAKE YOUR INTERVIEW A SUCCESS
Make it social – demonstrate that you would be a pleasure to work with
Keep it professional – your presentation must be sharp, efficient and diplomatic
Keep it human – you need to present yourself as genuine and earnest
The details matter – from your outfit to your posture, everything is information
FOCUS
On the day of an interview, allow plenty of time to get there without rushing or being stressed by delays, Take everything you might need and a copy of your CV. Look your interviewer directly in the eye, focusing on what they are saying.
ENSURE THAT YOU ARE ALWAYS PREPARED
Preparation for an interview is crucial to arriving in a confident mood and feeling ready to tackle the interviewer's questions. Read up on the company's background, its place in the market and its competitors, and familiarise yourself with its key members. Make sure that you fully understand the role on offer. Failing to do so will make you look lazy and uninterested.
SIGN UP FOR GOOGLE ALERTS
Researching all there is to know about a potential employer in the days and weeks before an interview is a necessary but extremely labour intensive process. You will be glad to hear that there is a simple way to do this that doesn't involve hours scrolling through the news. Simply create an alert about the relevant companies in Google Alerts. It takes seconds to set up, after which you will get a daily dose of relevant articles and news items delivered directly to your inbox.
PREPARE YOUR SURROUNDINGS
If your interview is not in person and is a call on video or telephone, do it in a quiet, business like setting, ideally in a room with a door where you will not be disturbed. Look behind you, because this is what the interviewer will see. A cluttered background may distract your audience, not to mention send the wrong idea of your organisational skills. Also, rid the area of personal items – no need to share too much information. A blank or neutral background is best with a well organised desktop.
BE AUTHENTIC, CONCISE AND UPBEAT
Keep your answers short and focused, making sure that you answer the question you have been asked. Your time with each interviewer is limited so be mindful of rambling. Let your interviewer lead the conversation.
LISTEN AND DON'T DOMINATE THE CONVERSATION
Yes, this is an interview which means they're going to be asking you questions, but it's also an opportunity to show your potential employer that you are good at listening too. Talk, but don't dominate the conversation. Let the interviewer guide the conversation. Answer the questions, but don't turn it into a one-sided monologue. This is as much about you getting to know them as it is about getting to know you.
TELL ME ABOUT YOURSELF

A common question, partly because your interviewers want to know more about you, but mostly because they want to put you on the spot and see how you react. They have given you complete control here, and you should take full advantage of it. They have not, however, asked for you entire life story. Keep your answer pertinent and try not to go off topic too much. You are here to interview for a particular position, and you shouldn't lose sight of this. Remember, the interviewer is not just making small talk.
ASK ABOUT THE ORGANISATIONAL CULTURE
Something important to remember is that jobs interviews go two ways, it's not just about whether you are the right fit for the company, but if they are right for you too. Asking a question or two about the culture will give you an idea about whether it is a good place to work. Questions you may want to ask are: "what's the best thing about working here?". This is a chance for the interviews to brag a bit which is always nice. If they take a long time to answer or don't have anything to say, then it could be a warning sign. Also, "what is the main thing you expect from your employees?". The answer to this is a good indicator of the environment you'll be working in.
BE MINDFUL OF YOUR BODY LANGUAGE

Your body language will say a lot about you. Make sure that you are aware of how you are presenting yourself and know how to make your body language work to your benefit. Nail the handshake, look the interviewer in the eye and smile (firm but without crushing their hand!). Using your hands a bit when talking can make your stories more animated and aid communication, but be careful not to go overboard with your gestures. Also avoid fidgeting and fiddling with things, like your pen or jewellery as this can be distracting to your interviewer.
DEVELOP A CONNECTION WITH THE INTERVIEWER

In addition to indicating what you know about the company, you should also try to develop a connection with your interviewer. Have you looked them up on social media such as LinkedIn to see if they have got any hobbies or interests in common with you? Do they have anything on display in their office which you can relate to and have polite conversation about as an icebreaker?
POSITIVITY
Be well-mannered with any staff you meet before or after the interview and, if you are feeling particularly nervous, remind yourself that the very worst thing that could happen is you simply not getting the job. During the interview, avoid talking about any personal problems unless completely necessary, and never badmouth your previous employers.
WHY DO YOU WANT TO LEAVE YOUR CURRENT ROLE? DON'T CRITICISE PREVIOUS EMPLOYERS OR COLLEAGUES
Complaining about colleagues, drawing attention to the negative aspects of your previous or current job or moaning about your superiors is a definite way to blow your chances of success. This gives the potential new employer the wrong impression of you and makes them question what you would say about them in similar circumstances.
WHY SHOULD YOU GET THIS JOB?
This is unashamedly aimed at provoking a personal sales pitch. As there will probably be a number of other candidates having interviews, this is your chance to demonstrate why you want the job, and why you would be a perfect fit for the company. Essentially the company is hiring for a reason – see the job description. You need to position yourself as the person to do this.
HOW TO ANSWER, "WHY DID YOU APPLY FOR THIS POSITION?"
When they ask, "why did you apply for this position?" pick something specific that interested you. If you say you love what the company does, tell them why. That is the convincing answer for this job interview question. Stay away from sounding like you are desperate, or that you just want any job. You need to sound like you want the RIGHT job and that you are being selective. Companies want the best performers and the best performers are selective in their job hunt.
HOW TO ANSWER, "HOW DO YOU RESPOND TO CRITICAL FEEDBACK"
Don't say, "I don't like people criticising me!". Do say, "I welcome constructive criticism as it helps me to learn and get better at my job. Nobody is perfect but I always make sure that if I make a mistake, it's the first and last time". Criticism is an essential quality control, and managers disapprove of those who won't listen to criticism. Make it clear that you understand the need for criticism and its uses.
HOW TO ANSWER, "WHAT ARE YOUR GOALS? WHERE DO YOU SEE YOURSELF IN 5 YEARS TIME?"
An interviewer will be impressed if you have considered your short term and long term goals. Talk about the kind of job you would eventually like to do and the various steps you will take to get there. Show that you have the ambition and determination to make the most of every job you have held to get where you want to be.
HOW TO ANSWER, "WHAT IS YOUR GREATEST WEAKNESS"
Select a weakness that is relatively minor and fixable. It's something that you can improve through work and motivation, for example "I get nervous when speaking in front of large groups". You can get better through practice and learning new skills – this is a common development area.
HOW TO ANSWER, "WHAT CAN YOU BRING TO THE COMPANY?"
The employer wants to compare your skills with those required for the role. They're also looking for your unique selling point (USP).
Key things to think about:
How you work
Your passion for the industry
Your motivation to deliver results
Ways you can bring a fresh perspective to the business
Scripting and practising answers to common interview questions with someone you trust, perhaps even recording your self and reviewing your performance.